Last week, at the Castro Merchants virtual monthly member meeting, the group announced that they refused to sign a letter in support of Another Planet Entertainment's (APE) proposed changes to the 100-year-old Castro Theater.
Castro Merchants President Dave Karraker shared that, prior to the meeting, the executive board voted unanimously 5-0 not to sign the letter prepared by APE. Karraker was absent from the vote.
Earlier this year it was announced that Another Planet Entertainment would take over programming and refurbishment of the theater, while ownership remains in the hands of the Nasser family and Bay Properties Inc.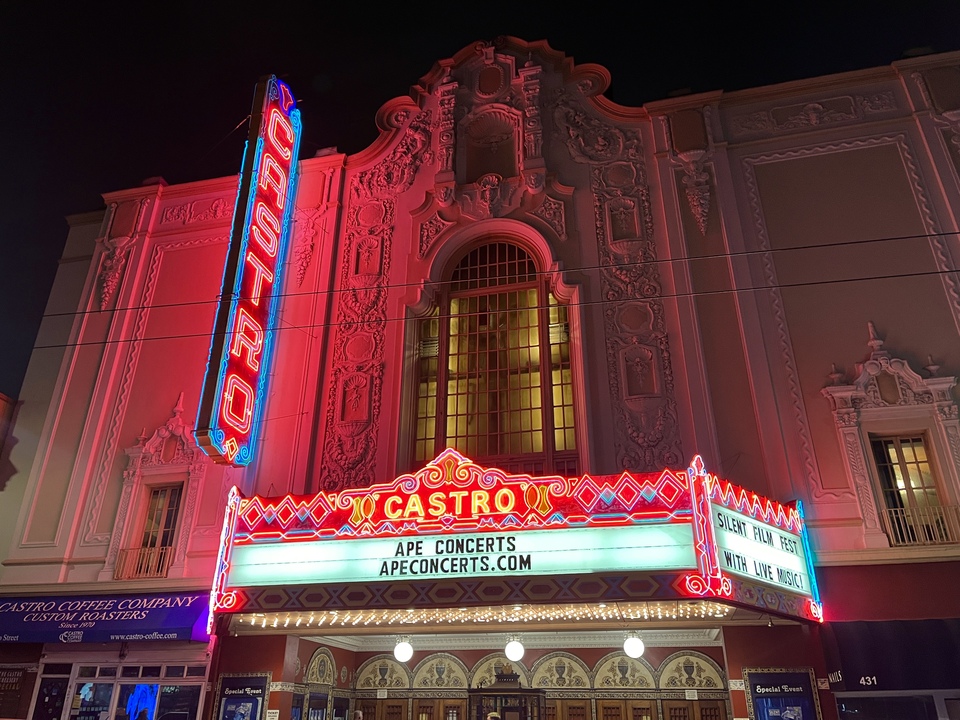 Photo: Steven Bracco/Hoodline
The letter was intended to be used at upcoming meetings of the Historic Preservation Commission (HPC) and the Planning Commission. Those meetings, originally scheduled for October 5-6, were postponed at the request of the APE to a combined meeting initially scheduled for December 8.
However, last week District 8 Supervisor Rafael Mandelman requested that the HPC consider expanding the historic designation for the theater, which would include the existing orchestra-style seating, separately. The HPC meeting will now take place on December 7th. All other HPC and Planning approval items have been moved to March 15 and 16, 2023, respectively.
Hoodline obtained the unredacted letter of support that APE wanted the merchant group to sign, and it reads, in part:
One of the many street businesses that has survived these challenges, the iconic Castro Theater, recently turned 100 years old. Thanks to its new partnership with Another Planet Entertainment, the Castro Theater looks set to enjoy another hundred years of business. The Theatre, when it is an active and vibrant place, serves as an anchor tenant in the neighborhood, constantly filling local bars, shops and restaurants with its patrons. If the Castro Theater were to close or be converted into condominiums or a gym, it would have a potentially devastating effect on the neighborhood. It is vitally important that an entertainment venue of this size survive in the Castro and be able to schedule a wide variety of entertainment to meet the needs of the diverse community it serves…
This project will have a direct, immediate, and exponential impact on the local economy and, in the longer term, help fill empty stores with new small businesses, increase foot traffic in the District, and subsequently support public safety.
APE also committed to a list of pledges in support of local merchants, including utilizing Castro's businesses for everything from catering services to office supplies. APE would also maintain a list of preferred vendors of Castro's businesses "for theater maintenance, i.e., painting, electrical, janitorial, and hospitality. Preferred vendors will be available to bid for jobs throughout APE's theater network, including out of Castro."
"As part of our discussions with APE to obtain written commitments related to business benefits and business interruption mitigation, APE asked Castro Merchants to sign a letter of support," Karraker told Hoodline. "The Board voted not to sign the letter because we still had questions about several other aspects of APE's management of the theater, particularly LGBTQ programming, impact on the neighborhood (i.e. traffic/parking), and general operating interests." , such as programming and ticket costs.
"We have had very cooperative discussions with APE and look forward to getting additional commitments in writing for our merchant members to consider soon," Karraker added.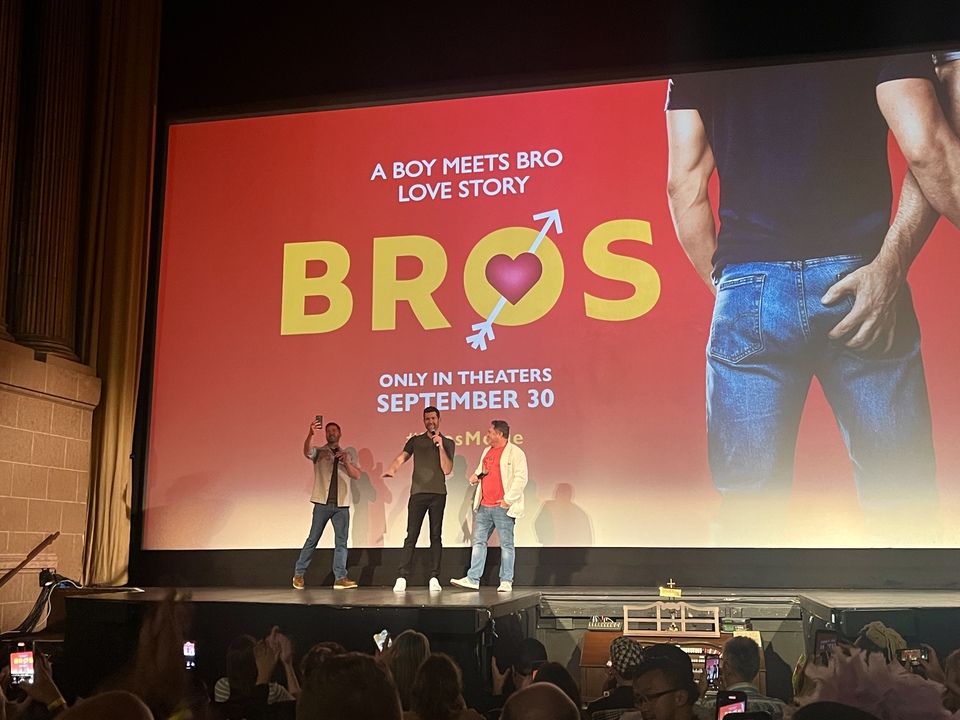 Actors Luke MacFarlane (left) and Billy Eichner at the premiere of Bros. | Photo: Steven Bracco/Hoodline
The announcement of the vote was immediately followed by a presentation by the Castro Theater Stakeholders Coalition, who have opposed APE's proposed changes to the Castro Theater.
The Castro Theater Stakeholder Coalition is comprised of members of the Castro LGBTQ Cultural District (CQCD), Castro Theater Conservancy, Harvey Milk LGBTQ Democratic Club, Alice B. Toklas LGBTQ Democratic Club, Castro Merchants, SF Heritage, SF Neon, Dan Nicoletta, Cleve Jones, Joshua Grannell (aka Peaches Christ), and others. [Full disclosure: Steven Bracco, Hoodline's Castro reporter, is a board member of the CQCD.]
Proposed renovations include removing orchestra-level seating and replacing it with four stepped platform sections with removable seats; remove concession stand from lobby area; expand women's restroom; upgrade ventilation and electrical systems; add a walk-in closet downstairs; and possibly adding an elevator with access from the lobby level to the second floor.
"What stands out to us is the absence of consistent LGBTQ-focused programming," said CQCD President Stephen Torres. "Even at this late date, they have alluded to a quarter of the programming the theater had been running before the pandemic. They seem to promise only 15-20 days a month of relevant programming, but for now there has only been one event per week. ".
Torres also shared that while APE has promised that they will be dedicated to ensuring that film festivals continue, the Noir City Film Festival is gone and many more film festivals have an uncertain future at the Castro Theater.
"The action of requesting these postponements and putting pressure on planning to try to keep the audiences together will in effect result in all those film festivals having to make alternative plans and therefore not being held at the Castro Theater," added Torres. "If it hasn't been confirmed yet, there's a real danger that's the case."
Castro Merchants co-president Terrance Alan shared the group's concerns and merchants were in two buckets. First, there are questions about APE's cultural impact on the LGBTQ neighborhood.
"How can we help Another Planet understand exactly what the community needs, in terms of Castro's unique status?" Allan said.
Second, the issue of parking was raised. "If several thousand people are going to attend an 8 o'clock show, how are they going to get there?" Allan asked. "How are they going to leave? That is a very important topic to talk about, it affects not only the businesses but also the residents of the houses."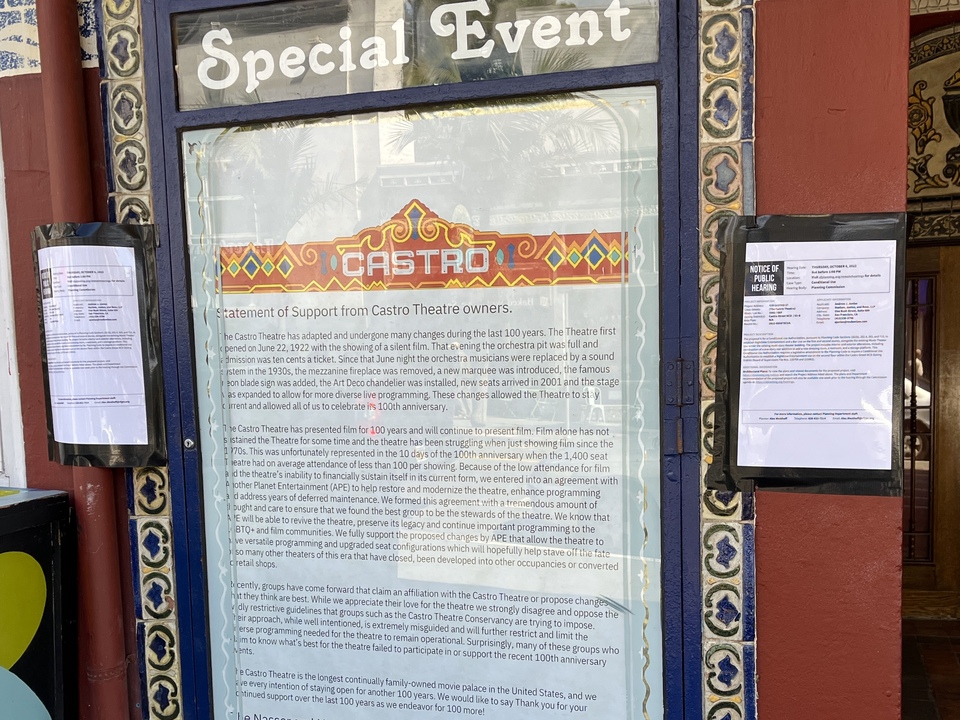 Posters announcing the public meetings that have now been delayed. | Photo: Steven Bracco/Hoodline
APE Project Manager Margaret Casey, spokesperson David Perry and Assistant General Manager Casey Lowdermilk were able to respond to the presentation on the chat field. Hoodline has contacted APE for comment on this story but has not received a response.
Casey answered questions about the possible increase in capacity from the elimination of seats at the Castro Theater. "Our current plans call for a slight reduction in capacity," Casey said. "Seats are being replaced, not removed. That narrative is intentionally misleading."
Casey also acknowledged that APE recently met privately with the Castro Theater Stakeholders Coalition along with Ground Floor Public Affairs lobbyist and former Gavin Newsom campaign manager Alex Tourk, Supervisor Mandelman, former state senator Mark Leno, BART director and APE Consultant Bevan Dufty, Castro Merchants Terrance Alan, APE CEO and Co-Founder, Greg Perloff, and Mary Conde, APE Senior Vice President.
"At the last meeting between APE and the Cultural District, you were asked to tell us what success looks like for you and you refused to answer because you don't trust us," Casey wrote.
Many attendees questioned the need for an agreement between APE and Castro Merchants, including Golden Gate Business Association CEO and Castro Merchants board member Terry Beswick, Terry Asten Bennett of Cliff Variety, Paul Perretta of Hot Cookie and Patrick Batt. by Auto Erotica.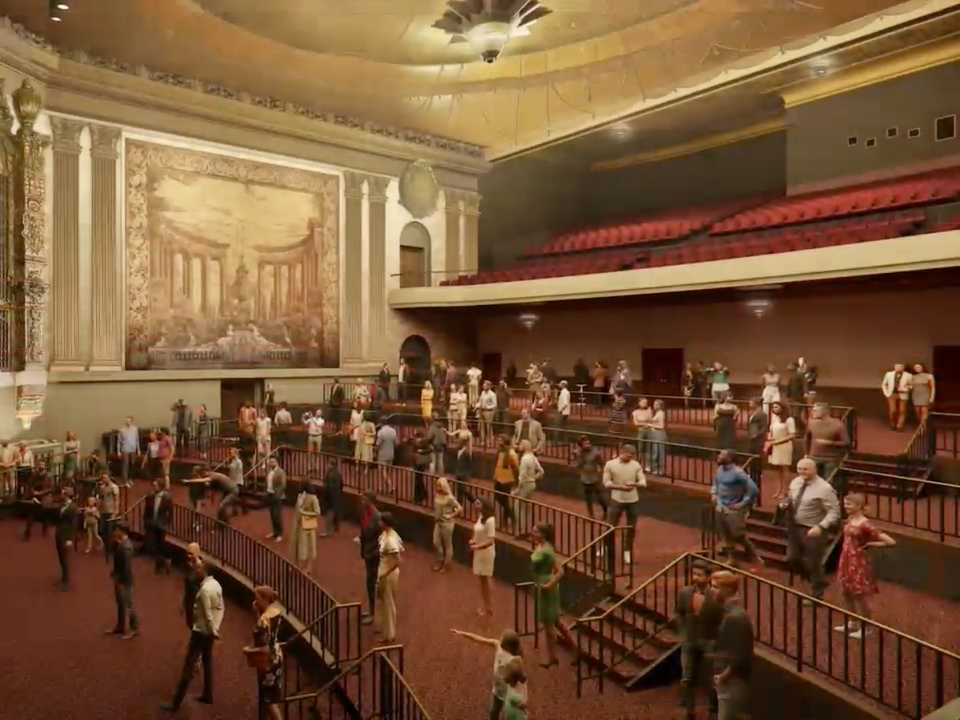 A rendering of the proposed floor plan for the living room. | Image: Another Planet Entertainment
"Until APE's involvement, there seemed to be no problem with the Castro Theater," Batt wrote. "Coalition means that member organizations agree on a shared agenda and come together to support the agenda," added Beswick.
Castro Merchants board member Brian Springfield shared his concern about the future of repertory filmmaking and queer programming. "The Nasser family has brought in a live event promoter with no repertory movie programming background to run their business. This has raised concerns," Springfield wrote.
"APE is committed, as they have expressed since January, to making theater affordable for smaller groups and non-profits," Perry wrote in response.
Hoodline readers will recall that this is not the first setback for the proposed changes to APE's Castro Theater. In August, the Small Business Commission voted unanimously to proceed with a supporting resolution to a later date. At the hearing, the commission heard significant community opposition from public speakers, including queer public historian Gerard Koskovich.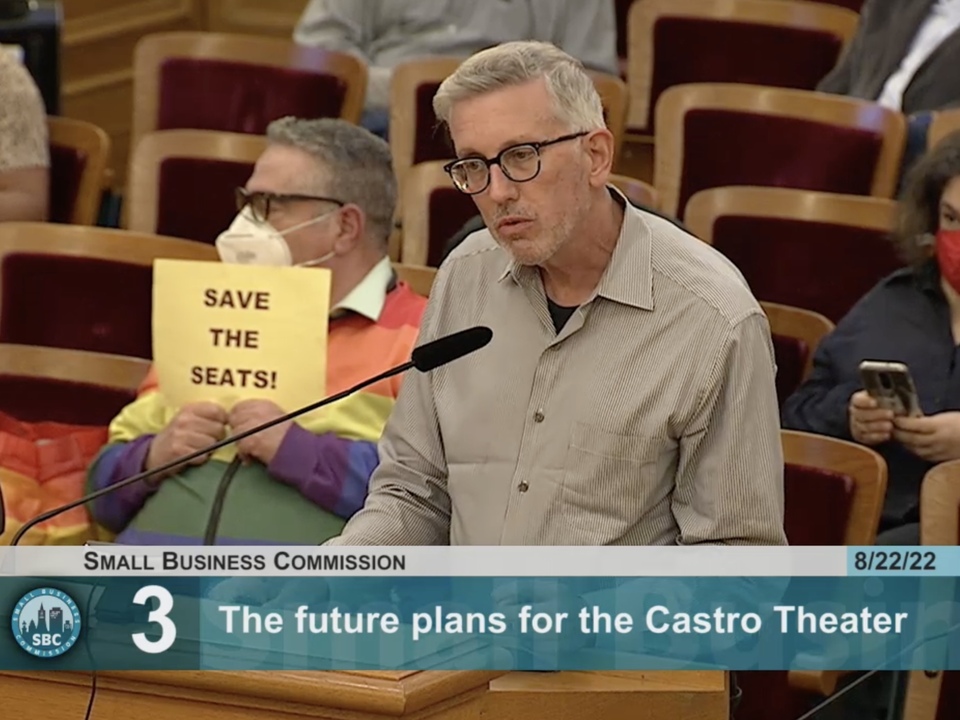 Gerard Koskvich speaking at the August SBC meeting. | Image: SFGovTV
"The classic cinema seat at the Castro theater is not casual, it is not casual, it is not insignificant," said Koskovich. "It's what conservationists define as a defining characteristic of this space."
"When I hear APE talk about bringing in a 'new demographic' or 'certain demographic,' I know what they mean by that," Koskovich added. "It means a lot of rock concerts with straight people who will get drunk at their concerts and 1,400 of them will hit the streets of Castro."
During the hearing, APE's vice president of business affairs, Dan Serot, admitted that the company was not fully prepared for the backlash from the public when it announced it would take over management of the historic theater.
"Unfortunately for us, we didn't see this as a community center. More like a commercial enterprise," Serot said.