Dumplings change shape depending on culture and recipe, from the tiny, striped barrel shape of Italian gnocchi to the big roundness of Chinese bao, with lots of filled and unfilled variations in between. Southern-style chicken and meatballs tend to be flat, pasta-like strips or round, doughy masses that are dropped into simmering broth.
Home cook Amy Martin's meatballs start out flat, evolving culinaryly into something beyond pasta with a soft, delicious bite delicately flavored with sage. I recently got a taste of this transformation when Martin walked me through a recipe that has been in her family for four generations.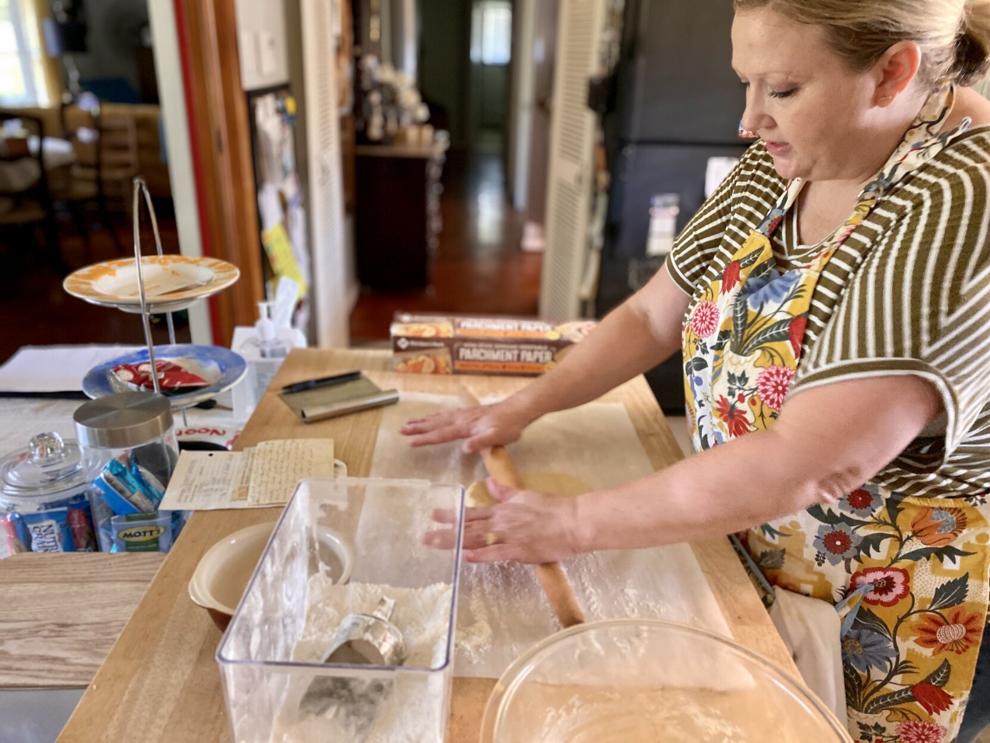 Martin spent his youth surrounded by grandparents and great-grandparents in Calhoun, Arkansas, where the bird in the pot came from one of several chicken coops his grandfather operated as a farmer for Tyson's Foods. Martin recalled when his great-grandmother, Frankie Gunnels Young, made chicken and meatballs: "She would kill the chicken herself, she would boil it whole and then she would remove all the meat from the bones."
Living in Lafayette, Martin is no longer surrounded by chicken coops, but she keeps her great-grandmother's handwritten recipe card on file, using chicken thighs and pre-made broth instead of boiling a chicken. If she wants to cut down on prep time or heat in the kitchen, she'll use a store-cooked rotisserie chicken.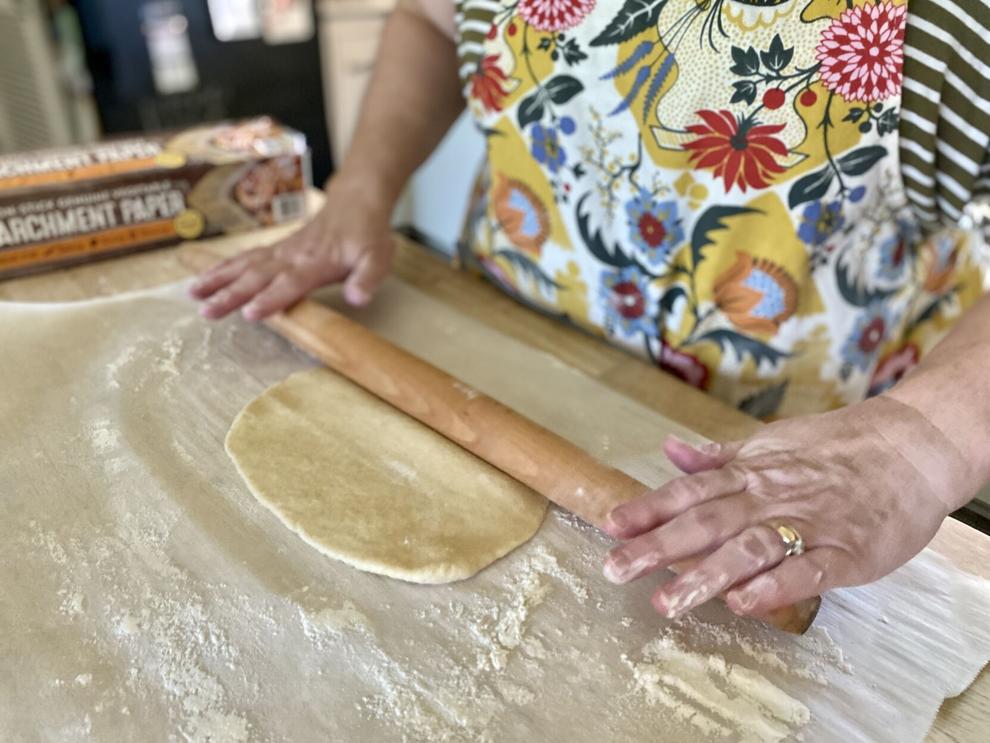 Having perfected the family recipe for 28 years, Martin's moves in the kitchen were effortless: an elegant dance of massaging spices into the chicken, kneading dough, stirring broth, interspersed with handwashing and sliders my way.
As the broth simmered, Martin, an avid baker, served up a brownie. I nibbled on its rich chocolate flavor as if it were an amuse-bouche, setting the rest aside for dessert as I was handed a sample of the simmering meatballs.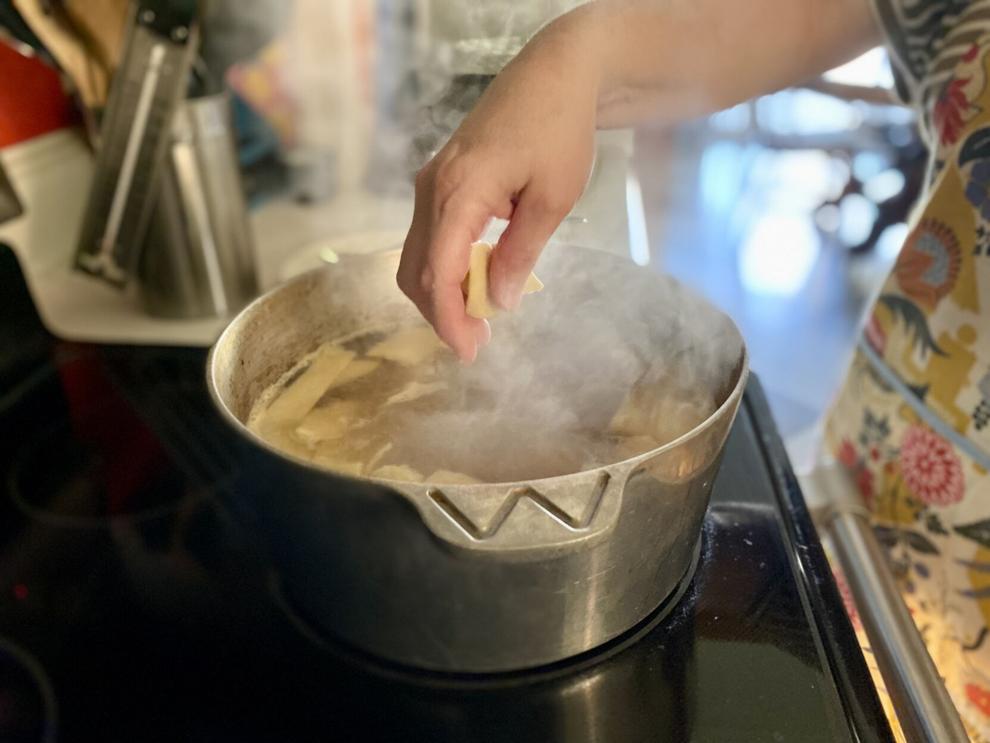 With that first taste, the dumpling reminded me of a wrapped egg noodle with the simple flavors of the broth. Several steps into the recipe, with a cornbread baked in his grandmother's well-seasoned cast-iron skillet, Martin gave me another taste: that's when the "Wow!" It occurred. The dumpling had puffed up ever so slightly with the goodness of the broth, creating a delightfully tender and flavorful bite, no longer resembling pasta.
"At Calhoun, we would serve this with cornbread, beans, sliced ​​tomatoes, and green onions," Martin said. "We had a big garden growing up. We pull out fresh green onions, cut off the roots, rinse them, and eat them fresh."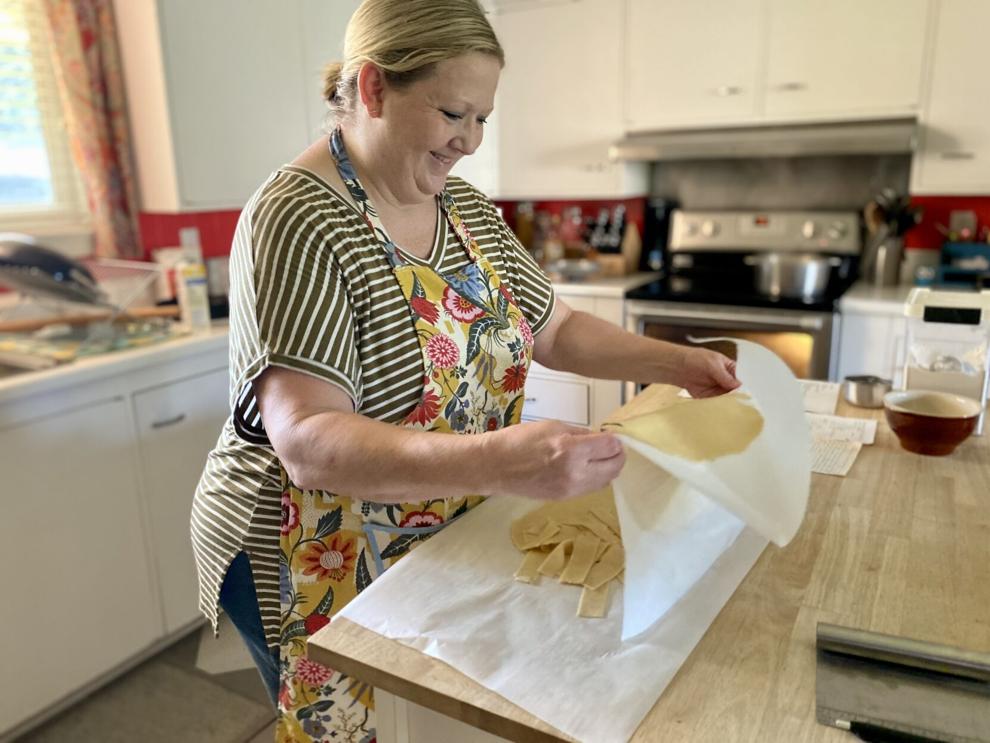 As I made a mental note to replant my sad little green onion patch at home, Martin served up a large bowl of chicken and meatballs and a piece of warm cornbread stuffed with a little melted butter. The unassuming cornbread had a surprising crunch to its exterior, due to Martin dusting the preheated greased pan with cornmeal before adding the batter, a nice juxtaposition to the tender chicken and meatballs that filled my stomach and comforted my soul. .
Back home, I made a pot of Martin's Chicken and Meatballs for my family, remembering how easy he made it look while wondering how he achieved such uniformity in his dough strips.
"Practice and luck," he said.
With luck and a solid, proven recipe as my guide, my family loved it.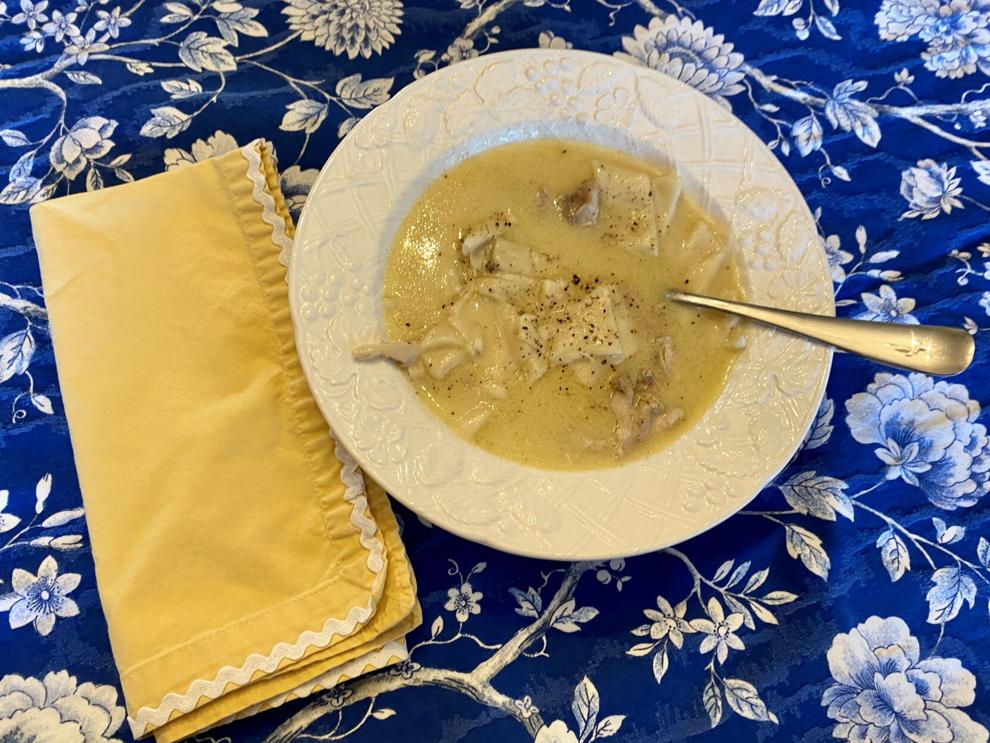 Chicken and dumplings
6-8 servings; The recipe is from Amy Martin.
FOR THE CHICKEN:
8-10 boneless skinless chicken thighs
Salt and black pepper to taste
Sage rubbed to taste (optional)
Olive or vegetable oil – enough to lightly coat the chicken thighs
FOR THE BALLS:
1½ cup all-purpose flour plus extra for rolling out the dough
1 egg
3 tablespoons vegetable shortening
½ teaspoon of salt
5 tablespoons of water
FOR ACTION:
2 32-ounce cartons chicken broth (substitute homemade broth if you have it)
10.5-ounce can cream of chicken
¾ cup milk
1 tablespoon all-purpose flour, or more if needed to thicken broth
1. Preheat oven to 425 degrees.
2. Place raw chicken thighs in a cast iron skillet (large enough to fit all thighs in a single layer).
3. Sprinkle thighs with salt, pepper, and rubbed sage.
4. Drizzle oil over thighs and massage chicken to evenly distribute seasonings and oil.
5. Arrange thighs in a single layer in skillet, then bake in preheated oven for 25 minutes, until thickest part of thigh registers 165 degrees on a meat thermometer.
6. When the thighs are done, use a fork to break them apart and let them rest. Remove excess fat.
7. While the chicken is baking, make the dumpling dough. Mix 1½ cup flour, egg, shortening, salt, and water to form a smooth dough. Use your hands to form the dough into a ball.
8. Divide the dough into three parts.
9. On a lightly floured surface, roll out the dough into three thin sheets, each about ⅛-inch thick.
10. Let the dough sheets dry for about 20 minutes.
11. While the dough rests, pour the chicken broth into a pot and bring to a boil.
12. Once the broth boils, season to taste with salt, pepper and rubbed sage.
13. While the broth simmers, cut the dumpling dough into thin strips (about 1/2 inch by 2 inches) with a knife or pizza cutter.
14. Carefully drop the dumpling strips, one at a time, into the boiling broth. The meatballs will sink to the bottom and then float to the top as they cook. Continue placing the dough into the broth one at a time until all of the dough is in the pot. Cook meatballs until tender when cut.
15. Reduce heat to medium low. Stir occasionally so the meatballs don't stick.
16. Place chicken thighs in broth with meatballs, reserving pan juices in skillet.
17. Add cream of chicken and milk to skillet with pan juices.
18. Whisk to combine, making sure to incorporate any leftover bits from cooking the thighs.
19. Pour the cream of chicken soup and milk mixture into the pot with the meatballs and chicken.
20. Simmer for 20 minutes, stirring occasionally so the meatballs don't stick.
21. If you want a thicker broth, create a slurry in a small bowl by mixing one tablespoon of all-purpose flour with about three tablespoons of broth taken from the simmering pot. Return the suspension to the simmering broth and incorporate thoroughly. Let simmer for several more minutes.
22. Serve in a bowl or deep plate with cornbread. Recommended accompaniments: sliced ​​tomatoes, whole fresh green onions, and butter beans.