As a reporter working in audio, Natalie Y. Moore has an ear for dialogue and a strong sense of history.
You also know how it feels when an editor asks, "Do you have someone to say this?"
"No! They didn't just say that," said Moore, a longtime WBEZ staffer, speaking from her home in Chicago. A created quote might make a better story. It also means you're writing fiction.
In 2018, Moore, who had already published several times, was ready to explore storytelling in a new genre. He drew inspiration from real events for "The Billboard," his first work, published in March by Haymarket Books.
He will present it at the Wisconsin Book Festival this Saturday, October 15 at 3 pm at the Madison Central Library.
"It was liberating to say, 'I want someone to say something, and I can make them say it,'" Moore said. In journalism and playwriting, "you are writing for the ear, in both cases."
But, he said, "I didn't want to do a reenactment…in plays, you have to up the stakes and the drama."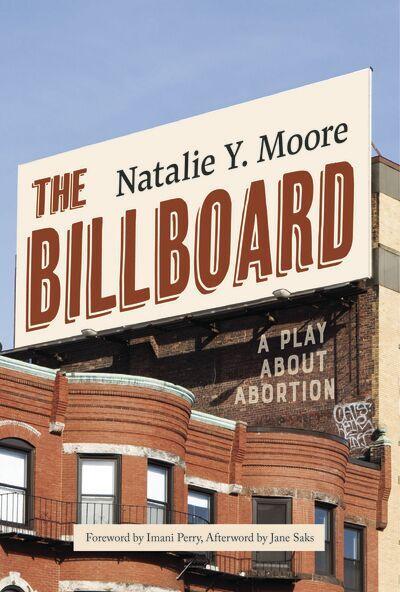 Although inspired by the events in Dallas, "The Billboard" is set in Englewood, Chicago, near where Moore grew up. It's an area he still covers as a journalist.
"Chicago is my muse," he said.
The story revolves around the Black Women's Health Initiative, a fictional clinic and resource center run by a forward-thinking director named Tanya and her more cautious board president, Dawn. The center relies on grant funding to serve the community, providing HIV/AIDS testing, lead testing, senior services and medication counseling, as well as safe abortions.
The women choose to step into the spotlight after a city council candidate named Demetrius, "a neighborhood horsefly who can't hold down a job," according to Tanya, puts up a campaign billboard nearby. Demetrius likes to call women "queens" while he coolly dismisses what they have to say.
"Abortion is genocide," resounds Demetrius's billboard. "The most dangerous place for a black child is his mother's womb. Keep Englewood Black."
Prompted by a rival council candidate, the women's health center responds with its own cartel. Tanya chooses the language and the image, three smiling black women, under her own message:
"Black women have the right to make decisions for their families and their bodies. Abortion is self-care. #Trust black women."
Moore embraced a new kind of collaboration while developing the work. She worked with a playwright, Kamesha Khan, who advised her on continuity and fact-checked. Moore chose which comments made sense for her play, incorporating a debate scene between the council candidates.
"I completely underestimated what it would feel like if the actors read your words," Moore said. "At the first table read, one of my favorite actors in Chicago was reading Demetrius… I thought he was going to cry. It was what I imagined, and something more".
"The Billboard" had its world premiere in June, directed by TaRon Patton for 16the Street theater. The production was a collaboration with (and took place at) her alma mater, Northwestern University, where Moore is an adjunct professor teaching audio reportage and creative nonfiction to graduate students.
"I was working with a theater that invested in me," Moore said. "The table readings and the workshops were done by the theater. This was not a case where I was writing in solitude and then handed it over; It was a collaborative process."
One thing that surprised her was how much the public loved Kayla, the 19-year-old employee who runs social media for the health clinic. Kayla was a "fan favorite," Moore said.
"With Kayla, I wanted to honor young black women from neighborhoods like Englewood," Moore said. "When we talk about black girl magic… it tends to skew towards young women who are educated or in a certain way.
"Here we see that the work is intergenerational. That's what I was thinking about with Kayla, to honor that."
As he wrote, Moore did not anticipate that Roe v. Wade would be annulled before the play's premiere. Some people have asked if he would like to review it, but Moore doesn't want to back down, preferring to keep the work exactly where it is.
Moore is still interested in writing plays. He would love to see this one get more productions. And if he were to call a network, he wouldn't object to revisiting these women and their stories in another format.
"This is so timely now. I hope she still has life left in her," Moore said. "Art is a way to reach people emotionally. You have the policies, the policy. You read around the problems.
"But art can humanize and give people an entry point."